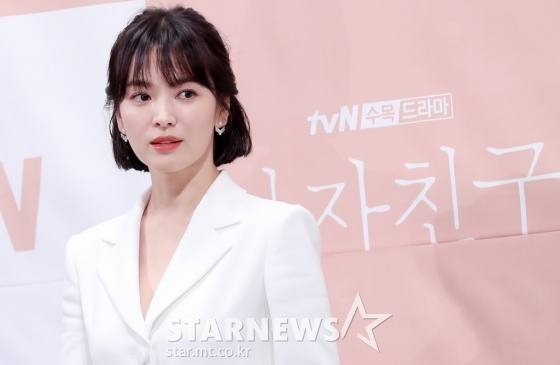 Actress Song Hye-kyo towards the malicious comments and rumors spread young netizens 2 people prosecuted opinion as the prosecutors were.
Reports etc according to the match per minute in 15 days, netizens Mr. A and Mr. B each of the information and Communication Network law defamation and insult accused of feedback to apply, prosecutors said.
According to the police A Ms. Song Hye-kyo with actor Song Joong-Ki and divorce procedure is the fact that known for the past 6 month through his blog "China's tycoons sponsor a decisive reason for divorce"line and post Song Hye-kyo of the defamatory charges of the you are receiving.
Mr. B's case a similar point in the Song Hye-kyo, Song Joong-Ki a couple of files to look for online articles in a malicious comment on Song Hye-kyo insult for allegedly received.
Song Hye-kyo side and Head yourself up to malicious comments and rumors and raise Internet ideas 15 specific last 7 September the police have accused.
If Song Hye-kyo Agency UAA is the official entry "through the evil act and apparent false diffusion, venomous and blatantly slander and profanity, etc for evidence collection is completed, a plurality of diffuser to defamation, insult, etc of the alleged complaint, said,"a few days "rest of the community or a comment, you servers, etc about the evidence to ensure that power for the criminal complaint to proceed will be"the statement said.
After investigation and the police are the corresponding ideas among the 13 already on the site, opt for things that appear as such tracking is not identified with A seed of 2, but prosecutors turned the corner.