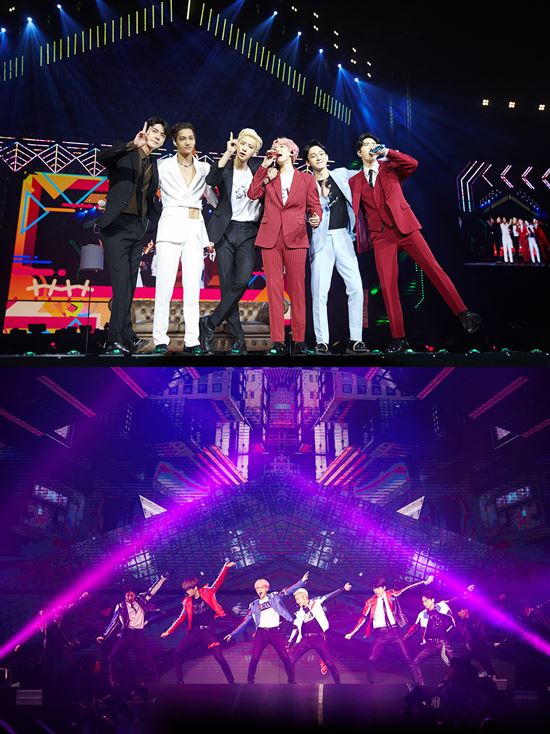 EXO fifth solo Concert 'EXO PLANET #5 - EXplOration - in MANILA'(EXO Planet #5 - Explorer collection - Internet Manila)for the past 23~24, Philippines Manila Mall of Asia Arena unfolded on it.
This Concert is approximately 1 year and 4 months in the open EXO's Manila solo Concert as much as it is, the first scheduled for 1 gig local fans's heated response with a ticket Open at the same time sold records, 1 times to add a total of 2 circuits unfolded it.
'Tempo'to this performance of because EXO is 'growl', 'addiction', 'CALL ME BABY', 'Monster', including the mega-hit song from 'Love Shot', 'touch the moment', 'Gravity', 'after the storm', 'Damage', such as the regular 5 home and repackage album tracklist stage, each with a different personality filled solo and unit stage up to a total of 23 songs to explosive Cheers was obtained.
Also the seats filled with the audience is a Philippines national flag colors of yellow, red, blue, white 4 kinds of color dress code by wearing tailored LED cheer Bong-waving performances enthusiastically enjoyed, Of course, 'IN THE NAME OF Love, EXO'(in the name of love, EXO), 'EXO Mahal kita'(EXO love)the phrase contains the slogan, the event also featured the heart-warming, including more.
Meanwhile, EXO is coming 9 15 Singapore Indoor Stadium from 'EXO PLANET #5 - EXplOration - in SINGAPORE'to hold.