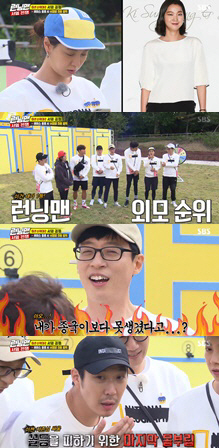 Model Jang Yoon-ju on the 21st broadcast SBS 'Running Man' became the topic of 'Running Man' in 'appearance rank'.
I turned roulette to reorder the second round, and the winning member called the acquaintance and gave him a ranking problem in favor of him. The roulette version stopped at Song Ji Hyo's name, and he called Jang Yoon-ju, who is doing the program together.
When Jang Yoon-ju answered the phone, he answered "Ngyohyo" and Yoo Jae Suk said "Oh ~" and laughed at his distinctive voice.
Jang Yoon-ju replied that Song Ji-hyo is the No. 1 player in the Running Man appearance rankings, and Kim Jong-guk is the No. 3 player. Jang Yoon-ju then said, "There is a jerk, Mr. Kim Jong Kook," said Snowy Road.
Haha continued to say, "Yunju, take your glasses off and you are naked."
Jang Yoon-ju ranked fourth in appearance, fifth in Yang She-chan and sixth in number. Haha has been grumbling to Jang Yoon-ju, saying "You are the bottom line," saying that the bottom seventh place is unbelievable. Yoo Jae Suk, who was named for the fuss, laughed shyly, saying that he could not believe it.
When Yoo Jae Suk made a mistake and stepped on Haha's foot, Haha said, "It's ugly."
Yoo Jae Suk, who won first place in the second round 'Bangbokbok punching', was arrested as an absolute leader and dragged Snowy Road.
Meanwhile, SBS 'Running Man' is broadcast every Sunday at 4:50 pm.