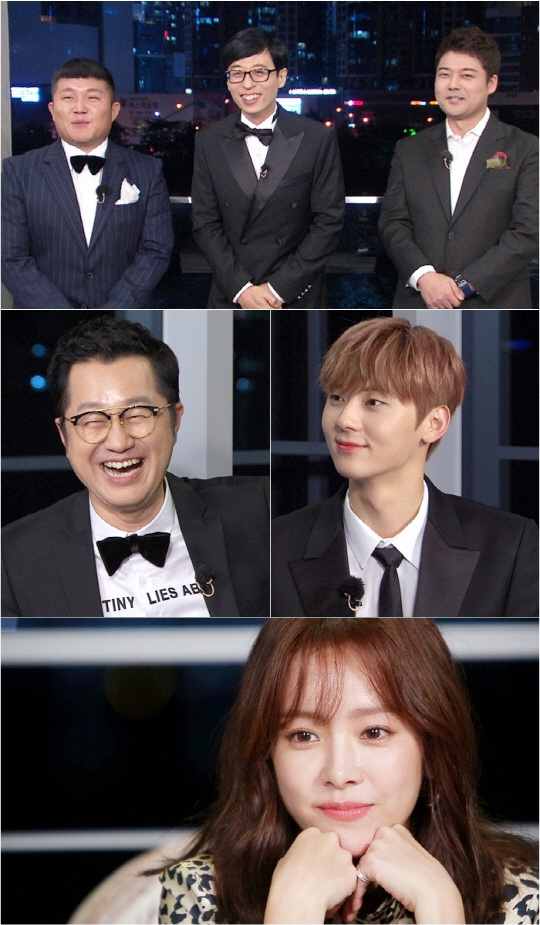 "Hattu 4", which has been ranked number one for 30 consecutive weeks in the same time period and laid a ceaseless smile on the house theater, is anticipating a major change in the new season. So, 'Hattu 4' reveals new changes in 11 years.
▲ I go directly to the studio away! For the first time, 'Hattu 4', which welcomed the stars in the indoor studio, will perform a talk show that will go directly to the stars. So, we will have a lively talk atmosphere based on a colorful background different from the studio.
In particular, MC Yoo Jae Suk - Jeon Hyun Moo - Cho Se-ho and Wanna One Hwang Min-hyun visit Busan to see Han Ji-min. I visited Han Ji-min, who was in charge of the Pusan ​​International Film Festival. One of the 'Hattu 4' will talk with Han Ji-min, the best actress in Korea, in the outdoor space, which is opened with the colorful night view of Pusan ​​International Film Festival.
▲ Fantastic chemistry of '3MC + Special MC + Han Ji-min'! 'Hattu 4' is going to give a fresh smile to viewers by adding Jae Sung Ryul's strongest act, Wanna One Hwang Min-hyun's refreshing charm to the solid progress of Mokgang MC line Yoo Jae Suk-Jeon Hyunmoo-Jose.
Han Ji-min, who plays a big role in crossing the screen with the screen, will show up as a guest and show explosive artistic feeling with fantastic chemistry with MCs. Han Ji-min said, "It's been a long time since my performance has been shown." However, soon Han Ji-min is a back door that boasted a great sense of excitement that Yoo Jae Suk was able to compete with Yoo Jae Suk and deal with Yoo Jae Suk and penalty perfectly. Han Ji-min, who has stalled the MCs, is expecting a big success for their success.
▲ New corner appeared! Express star appearance of hot star!
In the newly renovated 'Hattu 4', ambitious new corners will appear to stimulate the interest of viewers.
Especially, in the new corner of 'Hattu 4', Park Hyung-sik, Girls Day Hyeri-Big Bang, and other hot stars, poured hot cheer for Han Ji-min. Moreover, they are the back door to reveal the special relationship with Han Ji-min, and to impress the MCs by presenting a limited number of gifts for Han Ji-min. As Han Ji-min and Park Hyung-sik - Hyerye - Yen are tied up with each other, there is a growing expectation for new ambitious new corners of 'Hattu 4'.
Happy Thursday night KBS 2TV 'Happy Together 4' will be broadcasted at 11:10 pm on Thursday, 11th.