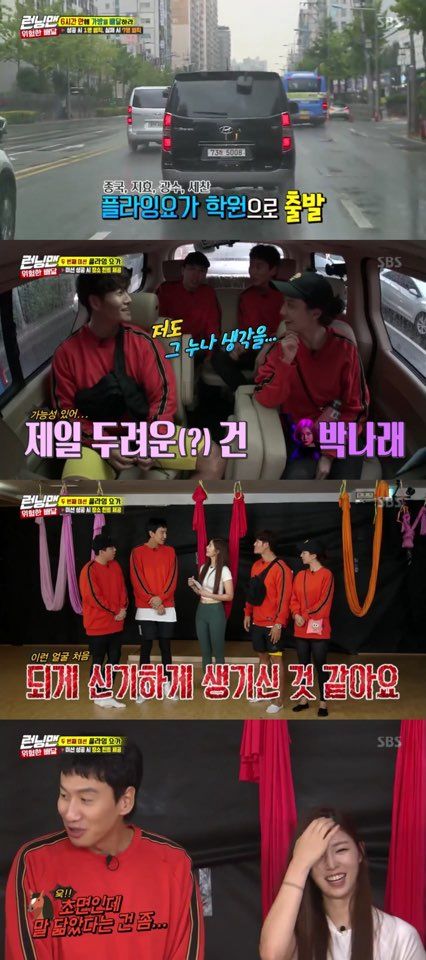 Running Man members learned flying yoga on Yoo Seung-ok.
On 16th SBS "Running Man", a flying yoga instructor "Yoo Seung-ok" appeared. Running Man members carried out the "dangerous delivery - back delivery" mission that needs to deliver the bag within 6 hours.
In order to grasp the distribution location, members of Running Man learned "flying yoga" and "street dance" separately for both teams.
"Flying Yoga" team Kim Jong Kuk, Yang Se-chan, Lee Kwang-soo, Son Ji-ho said in a moving car, Kim Jong-kuk said, "I am afraid that the teacher who teaches yoga is a vaguaree" I showed a feeling.
However, the teacher who teaches flying yoga was exactly "Yoo Seung-ok". Lee Kwang-soo strove to delight and hid himself Seated next to Yoo Seung-ok. Yang Se-chan accused him of his inner feeling that "there is no fire defense so as not to be robbed of digits."
Yoo Seung-ok stated that he saw the line Lee Kwang-soo beside "miraculously animated" and said "it is similar to words." Then Lee Kwang-soo said "You did not say the word for the first time too much," Yam Seung-ok to Namratda.
Meanwhile, the mission of the Flying Yoga Team was to make everyone of the four teams work successful. Yoo Seung-ok taught special stretch in the deployment posture of the body before teaching motion. The member he did was bored with the difficulty level of flying yoga.