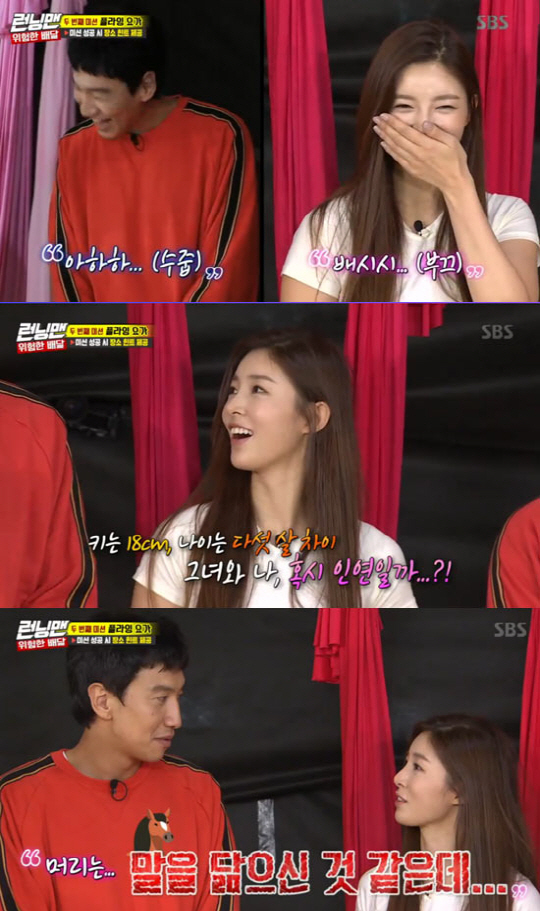 On 16th, Yoo Seung-ok of SBS entertainment "Running Man" appeared and taught flying yoga to members.
On this day, Kim Jong-kuk, Lee Kwang-soo, Yang Se-chan, and Song Ji-ho were surprised to see Yoo Seung-ok of beautiful appearance who went to teach yoga.
Lee Kwang-soo pushed Yang Se-chan to have next seat to Yoo Seung-ok. Kim Jong-kuk said, "(Yoo Seung-ok) matches well with Lee Kwang-soo with tall height"
Yoo Seung-ok said that her height is 172 cm.
Lee Kwang-soo asked her. "How old are you? If you are 29 olds, I am older 5 years old than you"
He strongly expressed that he and she will be good couple.
When Yoo Seung-ok saw Lee Kwang-soo's face, she laughed.
She said that Lee Kwang-soo look after horse.
Lee Kwang-soo said, "In first meeting, her words were not done too much," he said.
Meanwhile, Yoo Seung-ok taught members for special stretching skill.
Lee Kwang-soo make laugh in high level traring course.