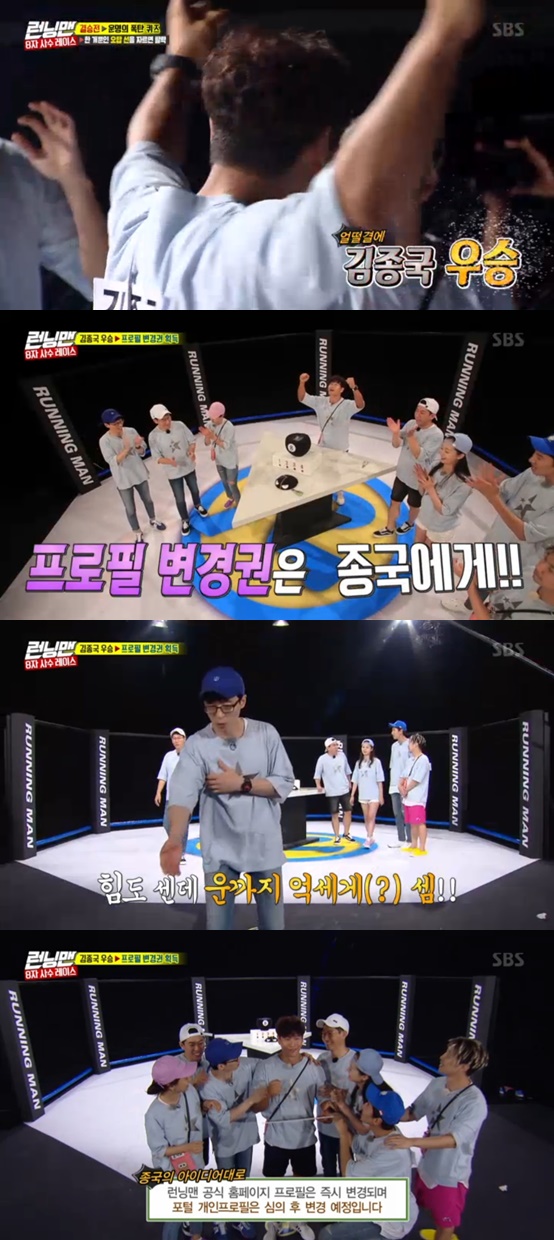 Kim Jong-kook acquired the right to change the profile.
The SBS entertainment program "Running Man" broadcasted on the 5th was an 8-character archery race unfolded. The 8-character shooter race, three people who earned the eight numbers '8' earlier through the mission advanced to the final and the final winner kept the name of the member of the portal site for eight weeks as he thought A race that can change.
I came out looking for acquaintance of the number 8 entertainer each. Kim Jong-kook and Yang Se-chan serve 8 life-long acquaintances, Jung Somin and Lee Kwang-soo perform actors in which 8 enters, Yoo Jae Suk and Ji Suk Jin are celebrities born in August, Haha and Son · Jihyo received the directive that he must carry out the mission searching for acquaintance "8 crown king".
Kim Jong-kook and Yang Se-chan called the eight-sized acquaintance to call Park Bo-gum and called. Kim Jong - kook told Park Bo - gum, "You are not nine heads", Park Bo - gum humbly replied "I do not have eight talents." Park Bo - gum could not play together due to schedule, and they visited 8 head comedian Jeong Doon and played games.
Lee Kwang-soo and Jung Somin are actors who appeared in the work entered by 8 and remembered Han · soccu of "Christmas in August" and Anne · Hathaway of "Oceans 8" but responded and appeared in 1988 · I invited Dong Il.
Also, Haha and Song Ji-ho found 8 popular songs karaoke mama radish. [Completion] The recording date is a gorgeous birthday, Haha who received food to receive food from members gave hormone cakes for flashy. Mokuban recently got talked about recently prepared a custom cake. In a flashy who received this, she was pleased to show off the perfect Mokuban by sucking a hormone that was unclear enough and laughing.
Yoo Jae Suk and Ji Sukjin headed for the SBS waiting room to meet the August born actor Sinjeson. While Yoo Jae Suk succeeded in the mission and Shin Hye Sung and Ham Chim were played, he made a mistake search mission.
Next game result Yoo Jae Suk, Kim Jong-kook, Yang Se-chan advanced to the final. In the quiz showdown Yoo Jae Suk lost first Kim Jong-kook and Yang Se-chan confrontation, Kim Jong-kook won and gained the right to change the profile.
The profile of the "running man" side program is going to change soon, and I announced that the profile of the portal site will be changed after deliberation.
Shin Hye Sung, Mama Radish, Son Dong-yl, Jean Doon appeared. . Park Bo-gum with voice