'Astral Chronicles' side "Song Joong-ki, Kim Ji-won, Jang Dong-gun and Kim Ok-bin, Confirmed NO + Conflict NO"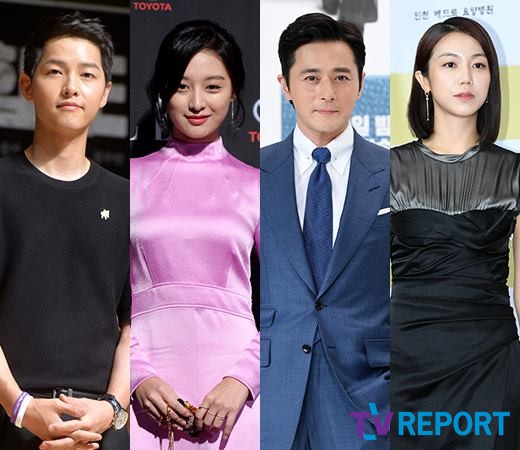 Actors Song Joong-ki, Kim Ji-won, Jang Dong-gun, Kim Ok-bin are considering appearance on the tvN drama "As month chronicle".
On September 19, officials of the "Associated Chronicle" said, "Song Joong-ki, Kim Ji-won, Jang Dong-gun, Kim Ok-bin are definitely considering appearances, but they have not confirmed "It's a director, I will meet only writers today," he said.
"Asun Chronicle" is a fantasy drama depicting Korea 's first ancient human history. Draw a story of heroes, anti-heroes who make "country" in virtual land.
"Asun Chronicle" was written by Kim Young-hyun, Park Sang-yong writer, co-author of flashy casting and "deep rooted tree", "Yukryon Narsha", "microorganisms", "signal", "my Uncle "Director Kim Won-seok gathers expectations for directing.
First, during the play Song Joong-ki and serve as Han Tai Unsom. It is an undressing mixture of people and brains, has special looks and extraordinary abilities. Become a conqueror of the Associated Ass wishing to be an empire later in a city state.
Kim Ji-won took over the role of Tanya, a successor to the Han family clan. It is a first love of Song Joong-ki and a woman who loves the field of view (Jang Dong-gun). Imperial Ass Prince, the first crown prince of the month, becoming the first empire's first great female politician.
Jang Dong-gun Jang Dong-gun plays the new Nyuk Jok Tagon. The shortage of the Ass month It is the son of Yonmenjang, a hero who led the victory of the undressing 20 years big war inside the person and the brain. It will become the first king of Ass Monde at a later date.
Kim Ok-bin serves as a survivor's state al-ha during the war between the human and brain undressing 20 years. It is a person who is called "the strongest creature on the earth" and is proud of the ability of genius swordsmanship.
"Ass Chonicle" is a pre-production drama, which is scheduled to be broadcast in the first half of next year.