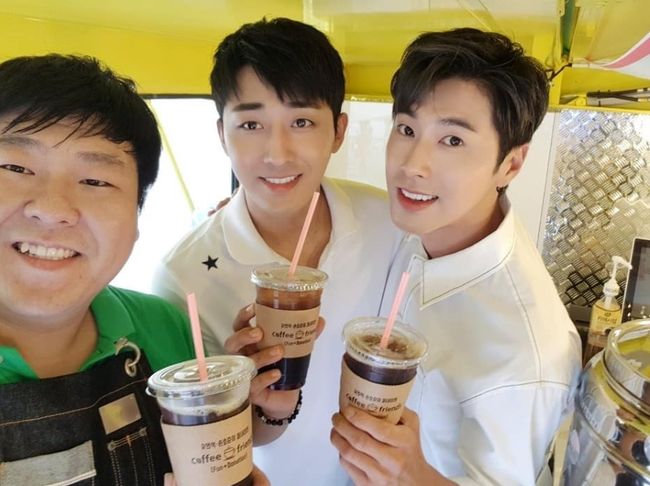 Dong Bang Shin Ki Yunho and Son ho joon practiced warm Donation.
Yunho and Son ho joon released the "Coffee Friends" Donation certification shot that urges many people Donation to Coffee created directly on the 30th Instagram.
Son ho joon is advancing Yoo Yeon-seok and Pangease (Fun + Donation) "Coffee Friends" to help people who have difficulty with Coffee values. When Yoo Yeon-seok could not participate in the filming of the artist's drama "Mr. Sunshine", Son ho joon and ordinary acquaintance Yunho sneaked as a express guest.
It seems that Yunho and Son ho joon pose positively while holding Coffee in the released pictures. A warm visual as well as an eye catches on.
The two of us together with 200 people before the Gangban station Techno Mart today (Today) together a fun Donation. After completing all the events, Yunho said, "First of all, I would like to thank everyone who gave me the heart of today and participate in Donation, I thought that rain would come a long time, you worried a lot since yesterday evening The weather was fine, like the heart of mind, we could do a good job and the weather also helped us! "And" I and Hojun irregularities together The fourth "Coffee Friends" is your warm heart We gathered carefully and were able to finish successfully! Thank you! "I told the impression.
Son ho joon said, "Thank you so much for participating in such a hot and rainy situation, thanks to such a lot of participation. Thanks for the real thing of our Yunho who took time with our busy schedule! By the time we promised, I will also do my best and I thank all of them. " [Photo] Yunho Instagram
Yunho Instagram