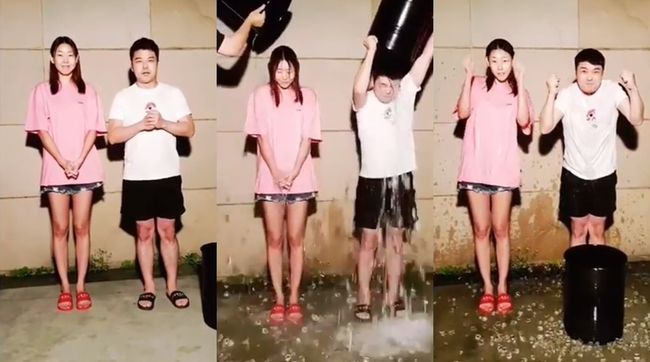 Jun Hyun-moo Han Hye-jin couple in public romance participated in "2018 Ice Bucket Challenge".
Jun Hyun-moo released a picture taken on his own instagram participating in Han Hye-jin and ice bucket challenge on the 2nd. Jun Hyun - moo and Han Hye - jin in the released video are standing side by side in T - shirts and shorts.
Jun Hyun-moo said, "In 2018, the seventh anniversary of Seung Mr. Park Seung-il of the Lou Gehrig patient's patients and Sean was met, the year when the land of the first domestic Lou Gehrig specialty hospital was prepared "Lou Gehrig Juan Family members Himune Shigo Fighting Hushigiru wish," I said.
Han Hye-jin briefly added, "I would like to ask for more interest and love support for your Lou Gehrig Pioneers from now on". Then they went on ice water and shouted "Fighting".
Jun Hyun-moo took over the baton 84, im waterworks, block non-park / kyon, Han Hye-jin cited Zhang Yunz, Yi Hyun, hehejong.
Former Sean announced the departure of "2018 Ice Bucket Challenge" via their SNS last month. Sean and a lot of stars such as Dukki Sword, Daniel Henny, Girls' Generation Swimming Soho Hyun, Yo Jing, Guakdong Young, Zion, Lee Jun Nok, Bakunare, Kim So-hyun and many other stars participate in the ice bucket challenge and have a good impact continuing. Especially Jun Hyun-moo and Han Hye-jin who were nominated by Lee Xion and Baknare participated in the first couple and attracted even more attention. [Photo] Jun Hyun-moo Instagram
Jun Hyun-moo Instagram