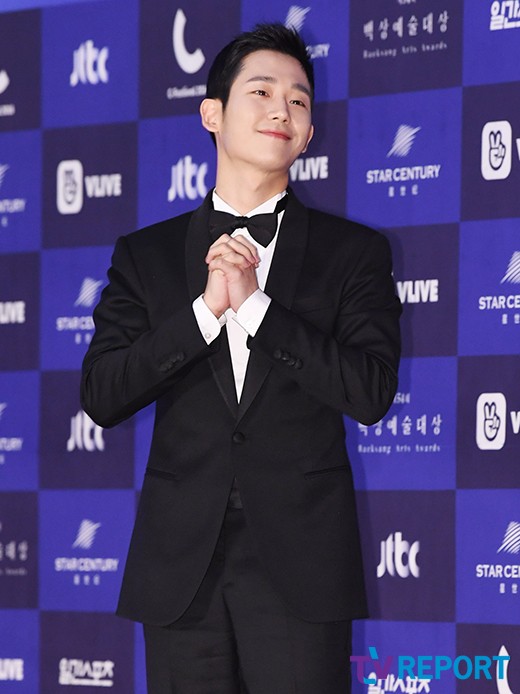 Actor Jung Hae-In At this time, it went up above the non-chopping board.
A figure that is ruined by toughness with one piece of photograph.
Will it be a problem like this?
The last three days "54th Baeksang Arts Awards" (2018 Baeksang Arts Awards) was held.
Many stars and famous production teams participated in the event and the film "1987" and tvN "secret forest" won the grand prize and closed the curtain.
"1987" and "secret forest" gathered big topics until last year following last year, so the breakdown of the 2018 Baeksang Arts Awards' awards had no objection.
I naturally had to accept it as a work.
However, "2018 Baeksang Arts Awards" arrested the ankle unexpectedly.
A moment of winner collective photography soon.
The discussion expanded because of the popularity of Jung Hae-In who received popularity award.
Lastly, "2018 Baeksang Arts Awards" also took photographs of the winners group so that all the award ceremonies are so.
As the group photo shoots, the actors took a digit one after another.
Especially Jung Hae-In talked with actor Cho Seung-woo, who stood next door, with a bright expression.
The winners stood naturally and took pictures, and no one raised an objection.
The officials who were on the site also shook their heads leaving the discussion of Jung Hae-In this time.
An official announced, "Jung Hae-In did not want a greed, but just followed the instructions of the site," another official also announced "no problem."
Combining the words of these stakeholders, it was reported that the photographers of the 2018 Baeksang Arts Awards award winner group were taken one step behind the actors.
In the situation where the scene was going down and forth youngest child Jung Hae-In first went up to the stage and waited for seniors, and a photo ranking was formed naturally at the center.
As a result, Jung Hae-In would not have known about becoming the center of group photographs.
It is unfortunate that it is a situation that puts this and points to toughness in part.