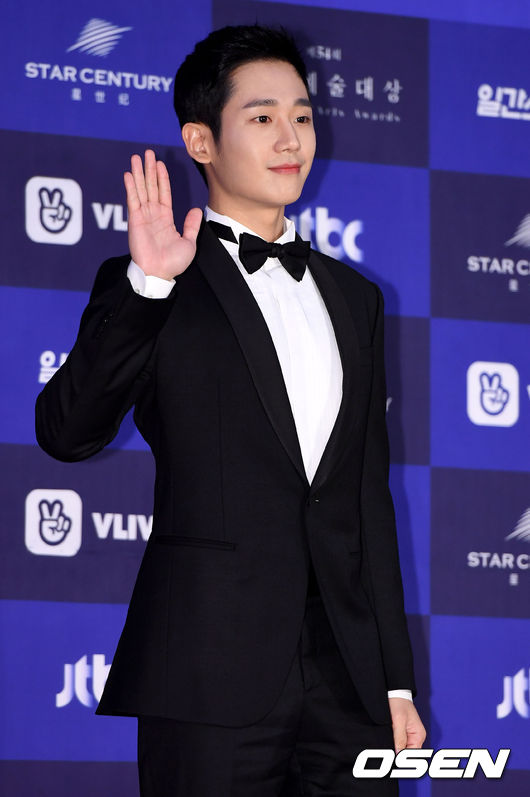 Actor Jung Hae-In At this time, he was enveloped in dispute.
Academy Awards for the reason that they stood at "Center" in group photographs.
It is embarrassing as Jung Hae-In, and there is no choice but to do irrationality.
Several reactions to be discussed are most reactions.
Jung Hae-In got the honor of winning the popular award at the 54th Baeksang Arts Awards held on the 3rd afternoon.
Recently integrated channel JTBC Gumdorama "Often bought for rice is a beautiful older sister 'gained popularity' and it was called the 'busts' and it was the result of the hit.
The problem occurred in a group photo after the Academy Awards.
It is not Jo Seung-woo who won the award, Kim Nam Joo, Kim Yoon Seok etc. Jung Hae-In Because it stood in the center of this group picture.
After publishing the photographs on the organizer side, the disapproval voice directed towards Jung Hae-In was puffed up in a controversy.
However, it is the voice of the people concerned that it is not a problem to be problematic.
Jung Hae-In was not directly concerned about the center girder, but the stakeholders of the Academy Awards were to arrange the winners considering the overall picture.
Daringly Jung Hae-In stood in the center and not to blame him.
Of course, there may be cases where the position of the photograph of the organization is selected mainly by the winning prize, the grand prize winner, but there was no fixed formula.
After all, the popular photo was the arrangement of coordinated winners at the work site, taking into consideration the overall feeling of the sensation, at that time.
It is necessary to celebrate the popular award as Jung Hae-In enough that it is puzzled by unprecedented discussion.
Industry officials who were at the site of the "Baeksang Arts Awards" explained that "accusations of overtaking seniors is not to be talked about, polite actors" and the atmosphere at that time.
Jung Hae-In, who went up to the stage with the senior citizens of those days, is an explanation that may be nervous, rather that he might not have known about himself.
I do not know the circumstances before and after, it is a shame that accusations to spit unconditionally.
Jung Hae-In won the popularity award this day, "Thank you.
Very tremble.
I will make every effort to seriously do every minute.
And I want to be a person who can appreciate small happiness.
Finally, I want to walk silently, silently on the way I gave thanks. "