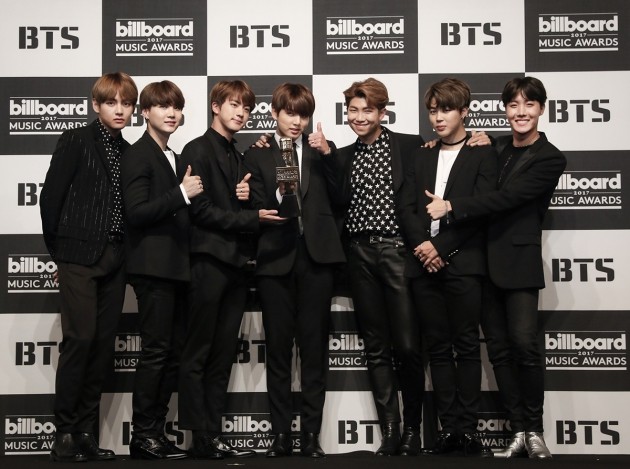 Boys group BTS occupied the idle chart ranking Ranking April 3 parking week chart 1st place.
Idol chart announced on the 27th April 3 parking lot in the ranking BTS received a soundtrack score of 480 points, an album score of 146 points, an expert's point of 50 points, a broadcast / portal / SNS 4260 points, and a total of 4936 points It occupied 1st place per week.
Following BTS, Boys Group WINNER ranked second (4823 points in total), TWICE (No. 4292) in 3rd place, Red Velvet (4,220 points in total), WannaOne (total score 3912 points) He raised his name.
Kang Daniel of the group WannaOne (6 pm standard of 26th) recorded the highest number of votes in the rating ranking made by fans' participation for 5 consecutive weeks.
Subsequently, Jimmin of BTS, politicians of BTS, Vice of BTS, Ha Sung-woon of WannaOne recorded high votes.
Especially Ha Sung-woon showed the bottom-line power to enter TOP 5 of the most votes in the week when it attracted participation close to 2,000 votes only this week.
An official of the idle chart said, "Broadcast / portal / SNS scores rapidly increased and occupied first place forecasting Come back on May 18 when the group BTS came.
Subsequently, the group WINNER who went up to 2nd place not only the title songs of the genuine bosses, but also entered the chart till the recorded songs and showed bullish by the soundtrack score.
In addition, WannaOne's Ha Sung-woon who occupied fifth in the ranking ranked in the top ranking in a short time and proved the power of the fan base. "
On the other hand, the idle chart is not a song, but a chart that comprehensively analyzes and tabulates the performance and topicality of the singer itself, and it is possible to confirm at a glance the singer who became the most talked about in a week at a glance.
It includes a main chart, an odd ranking, a direct ranking of fan participation, a diverse analysis of singing experts, a new report, new song news on which new records and singer news are posted, and a community bulletin board Atok Composed