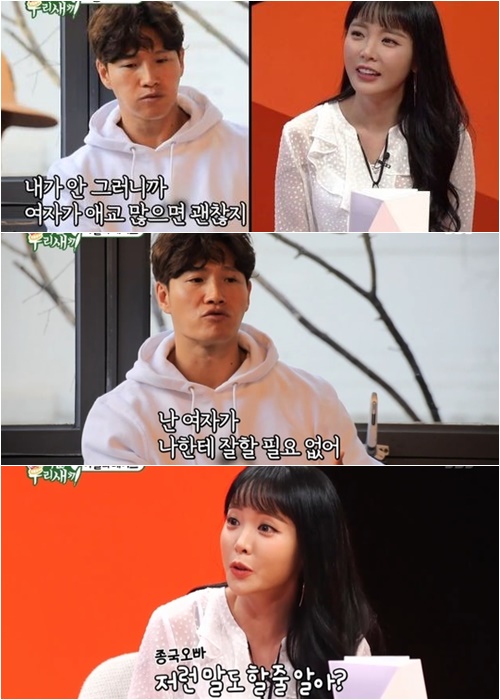 While singer Kim Jong - kook showed a strange love line with singer Hong Jin - young, his words shot the target of woman correctly.
In the SBS entertainment program 'Ugly Our Son' broadcasted on the 29th, Hong Jin - young appeared on Special MC and showed Kim Jong - kook and unusual pink airflow.
On this day Kim Jong-kook bloomed with talks with his close brothers with a branch time.
Meanwhile, Hong Jin-young who was talked about recently in the SBS entertainment program "Running Man" was mentioned.
Kim Jong-kook receiving Hong Jin-young's question said it was "campaign is good" and expressed favorable as "to be his baby, a lot of smart study".
I have contact information, but I will not contact you separately.
Along with that, we left the possibility of "being able to look private".
Hong Jin - young 's characteristic charm is "Because I do not have a woman well after that.
By the way I told you kindly. "Frankly speaking.
About Song Ji-hyo It certainly was another kind of atmosphere that said "I am not so familiar with each other".
In addition, Kim Jong-kook is one of the female performers of "Running Man" such as Kang Han-Na, Idahui, Song Ji-hyo, Hong Jin-young. Well, I Hong Jin-young is the best.
Even if it sees personally it seems okay to see anything, "he answered and got hot correspondence.
Hong Jin - young who watched this was satisfied with course.
Kim Jong-kook said, "I do not need a woman better for me.
I do not matter because I am doing it anyway, "he told Hong Jin-young and snatched the faces of female viewers.
Hong Jin-young showed the impression that "Do you know such words as the final brother?"
Hong Jin-young also calls Kim Jong-kook to call SEO's request that the phone closest to her style among the five sons be pleased Kim Jong-kook Mother.
Kim Jong-kook's mother said, "The camp is perfect.
"Miu New" Pidinim got to know the bride from here, but that word fits perfectly, "he smiled smilingly.
The development of Hong Jin-young and Kim Jong-kook's actual love line can not be known, but the atmosphere of the day was enough to shake the hearts of Mobenzo and invite viewer's interest.
Kim Jong - kook 's "top man" comment, which did not improve the story of everyday life, seemed to be able to glimpse his view on romance and showed another attraction of Kim Jong - kook.